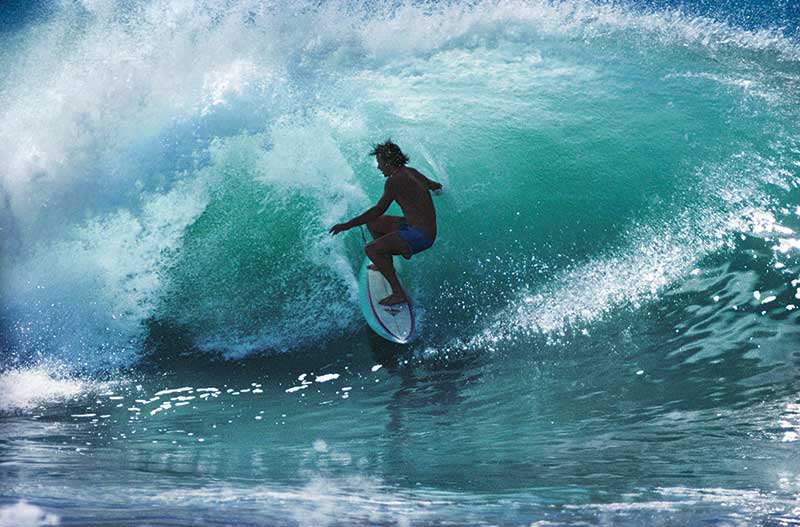 Simon Anderson Surfboards
Simon Anderson is an iconic Australian surfboard shaper, designer and surfer, credited with the invention of the modern thruster. 
Simon gravitated to North Narrabeen in '69, to a culture of hardcore surfing with a strong link to board manufacturing at nearby Brookvale. He entered the industry as a ding fixer at Shane Surfboards in '70. His shaping career began at 17 after winning the '71 Australian Junior Title at Bells Beach from Peter Townend and the hottest junior of that year Andrew McKinnon.
Drawing inspiration from legendary local surfer/shapers Bob Kennerson, Terry Fitzgerald, Geoff McCoy and Col Smith as well as the stella staff at Shane's, Frank Latta, Ted Spencer and Butch Cooney, Simon had the best possible apprenticeship.
In 1973 Simon competed in the first professional Australian contest at Bells Beach placing 3rd behind winner MP and 2nd Anthony Hardwick (NN Surfer). '76 saw the beginning of the World Tour. He had wins in '77 at Bells and the Coke 2SM Surfabout finishing the year ranked No 3. In 1981 he had 3 more victories the Bells/ Coke double again and the Pipe Masters on a new innovation "the Thruster", the modern day surfboard.
Simon Anderson is still motivated to improve surfboard design to benefit his own surfing, team riders and surfers in general, including Kelly Slater in 2005 who won at J – Bay and Trestles riding one of Simon's shapes. He uses his many years of experience in shaping, surfing and working with team riders to create the best possible boards for all wave conditions.
Check out his latest surfboards in stock!